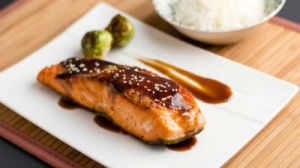 Preparation time: 40 mins. | Serves 2-4 persons
This Salmon Teriyaki Recipe is a Japanese-style broiled fish prepared with teriyaki sauce. The fish can also be prepared on the grill and give a nice grilling flavor to the fish. These fillets are usually served with boiled rice.
Ingredients:
4 salmon fillets
½ tbsp cornstarch
½ cup teriyaki sauce
1 tbsp sesame seeds
For Teriyaki Sauce:
½ cup soy sauce
2 tbsp water
2 tbsp rice vinegar
2 tbsp brown sugar
3 tbsp honey
1 garlic clove (grated)
1 tsp fresh ginger (grated)
Procedure:
1. To prepare teriyaki sauce, add all the ingredients of sauce in a pan and cook over medium-high heat until it boils, then reduce the heat to simmer and cook for 8-10 mins. until it reduces to half.
2. Transfer the sauce to a bowl and let it cool, teriyaki sauce is now ready to use.
3. Marinate fish fillets with the teriyaki sauce for 30 mins. or longer.
4. Now place the marinated fillets onto the greased baking dish and bake in preheated oven at a broiler setting for 10-15 mins. or until the fish cooks completely.
5. Meanwhile, to prepare teriyaki glaze for topping, boil the leftover marinade.
6. Dissolve cornstarch in 1 tbsp of water and add it to the sauce, cook it for 1-2 mins. or until it gets thick.
7. When the Salmon fillets are ready, transfer them onto the serving platter, drizzle the prepared teriyaki glaze on top, and sprinkle some sesame seeds.
photo source : 1