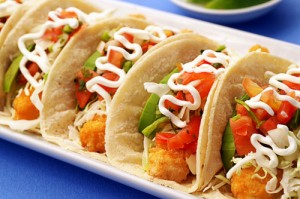 Preparation time : 30 mins. | Serves 4 wraps
This Fish Tacos Recipe is prepared with delicious Mahi Mahi fried strips, yummy fish taco sauce and sour and spicy vegetables. The wraps can be used of your own choice, in this recipe wheat wraps are used. You can prepare vegetable mixture over night to save your time or you can replace it with any salsa.
Ingredients:
4 wheat wraps
For Fish:
2 Mahi Mahi fillet (cut into strips)
1 tsp black pepper
½ tsp mustard powder
1 tbsp lemon juice
1 tsp garlic powder
1 tsp salt
1 tsp crushed red pepper
1 tsp oregano
¼ cup flour
2 tbsp corn flour
Oil for shallow frying
For Taco Sauce:
¾ cup plain yogurt
¾ cup mayonnaise
2 tbsp lime juice
¾ tsp ground cumin
¾ tsp oregano
1 jalapeno pepper (minced)
1 tsp cayenne pepper
For Vegetables:
2-3 tomatoes (seeded and finely diced)
1 small red onion (finely diced)
1 small jalapeno (seeded and finely diced)
2 cloves garlic (minced)
3 tbsp lime juice
2 tbsp finely chopped cilantro
Salt and pepper to taste
Procedure:
1. Marinate fish strips with garlic, mustard powder, lemon juice, ½ tsp salt and crushed red pepper. Leave for 15 mins.
2. Combine oregano, salt, flour and corn flour and dust marinated strips with the flour mixture.
3. Heat oil for shallow frying in a frying pan, fry strips in batches over medium heat till become light golden from each side.
4. To prepare taco sauce for fish, combine all ingredients of sauce in a mixing bowl and whisk well.
5. To prepare vegetables combine all ingredients, cover and refrigerate for at least an hour so that veggies absorb the seasoning flavor.
6. After that take wheat wraps, moist with water and microwave for 1 min. Then place 1-2 fried fish strips in each wrap, add some veggie mixture and drizzle taco seasoning on top. Serve immediately.
photo source : 1