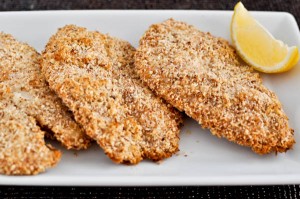 Preparation time : 20 min. | Serves 4 fillets
This simple Tilapia recipe is prepared by frying method, you just need to give fillets three flavors by coating in three different mixtures; first one the flour only, then dip in spicy buttermilk mixture and finally coat with seasoned crumbs and nuts mixture. The fillets then need to fry for just few minutes and then ready to serve.
Ingredients:
4 tilapia fillets
3 tbsp all-purpose flour
½ cup buttermilk
½ tsp hot sauce
½ cup breadcrumbs
2 tbsp finely chopped pecans
¼ cup coconut flakes
½ tsp salt
¼ tsp garlic powder
¼ tsp black pepper
Vegetable oil for shallow frying
Procedure:
1. In a large platter combine dry ingredients first including breadcrumbs, pecans, coconut flakes, salt, garlic powder and black pepper.
2. In a mixing bowl combine buttermilk and hot sauce.
3. Now take a fillet and dust it with flour from both sides, then dip in buttermilk mixture and then finely coat with dry mixture. Similarly prepare rest of the fillets.
4. Heat oil for shallow frying in a pan, then fry fillets two at a time or according to the size of your pan and cook till become brown form both sides.
5. Serve the hot tilapia fillets with salad and your favorite dip.
photo source : 1