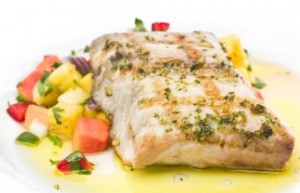 Preparation time : 20 min. | Serves 4 persons
This is a slightly modified recipe of the original Grilled Mahi Mahi from Joes Crab Shack restaurant.
Ingredients:
4 Mahi Mahi fillets
1 cup garlic butter
2 tsp crushed black pepper
1 tsp olive oil
½ cup salad shrimp
½ cup sliced mushrooms
1 cup Alfredo sauce
½ tsp dill weed
Procedure:
1. Marinate mahi mahi fillets with ½ cup garlic butter and 1 tsp black pepper for 5 min.
2. Heat grill pan to moderate temperature then grill fillets until become golden brown from both sides, it would take 8-10 min.
3. Now sauté shrimp and mushroom in remaining garlic butter and pepper for just 2-3 min until shrimp would become pink in color.
4. Add alfredo sauce and dill weed to the shrimp and mix well. Remove the pan from heat after mixing.
5. Place the grilled fillets over the serving platter and pour the prepared sauce over the whole fillets. Delicious grilled Mahi Mahi is ready to serve with fresh mix vegetables.