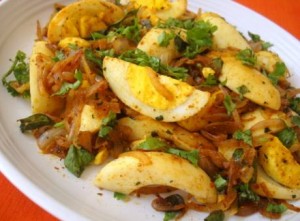 Preparation time : 20 min. | Serves 6 persons
This egg roast recipe is one of a quick egg curry recipe prepared in traditional Pakistani style. The curry is little bit spicy but you can adjust it according to your taste.
Ingredients:
½ cup oil
1 tsp garlic (crushed)
1 tsp ginger (crushed)
4-5 curry leaves
1 tsp turmeric
Salt to taste
1 tsp hot mix spice powder
2 tsp red chili powder
2 tsp cumin powder
2 tbsp tomato paste
4-5 medium tomatoes (chopped)
2 onion (sliced)
6 eggs (hard boiled)
1/4 cup fresh coriander (chopped)
Procedure:
1. Heat oil in a pan, saute ginger and garlic in it.
2. Add salt, chili powder, turmeric, cumin powder, hot mix spice powder, curry leaves and 1 cup water. Cook them together over medium heat for just 1-2 min until oil starts to appear on the surface.
3. Then add tomatoes, onion and tomato paste and cook over high flame for 3-4 min.
4. Now cut each boiled egg into four pieces and then add them to the tomato mixture.
5. Simmer for 1-2 min. Then take it out in serving dish and garnish with coriander leaves and serve with any bread or boiled rice.
photo source : 1