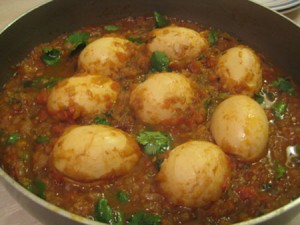 Preparation time : 30 mins. | Serves 4 eggs
This egg curry recipe is bit spicy and tastes much like any meat curry as the gravy is almost same as any other Pakistani meat curry. This egg curry is usually served with boiled rice or chapati (flat bread).
Ingredients:
4 hard boiled eggs
4 garlic cloves (minced)
1 medium size onion (chopped)
2 medium size tomatoes (take out seed and chopped)
¾ tsp turmeric powder
¾ tsp garam masala
1/2 tsp black pepper powder
1 tsp red chili powder
2 tbsp vegetable oil
Salt to taste
Procedure:
1. Fry onions and garlic in oil until golden brown in color.
2. After that add tomatoes, turmeric powder, black pepper, chili powder and salt. Cook the gravy until tomatoes become soft and oil starts to separate from the gravy. Add half cup of water if necessary.
3. Add one more cup of water and let the gravy to boil on medium heat.
4. After that add boiled eggs and sprinkle garam masala on top, simmer the curry for 10 mins.
page source : 1