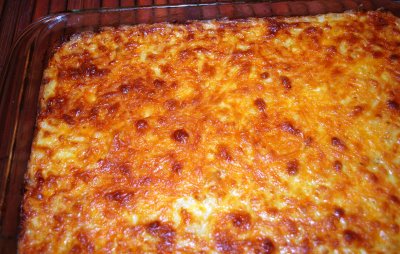 Preparation time : 70 mins. | Serves 4-6 persons
This recipe is nothing but a casserole dish of cheesy potatoes in which hash brown potatoes are used instead of mashed potatoes. You can also use homemade hash brown potatoes to make this recipe more economical.
1 bag hash brown potatoes
1/4 cup butter (melted)
2 cup cheddar cheese
2 cup sour cream
1 can cream of chicken soup
1 small chopped onion
Salt to taste
Pepper to taste

Procedure:
1. Preheat oven to 350 degrees F.
2. In a large mixing bowl combine has brown potatoes, cheddar cheese, sour cream, cream of chicken soup, chopped onions, salt and pepper.
3. Crumble the bread crumbs with butter and set aside.
4. Transfer the mixture into the baking pan. Sprinkle the bread crumbs onto the potato mixture and then place in oven for 60 mins. at 350 degrees F.