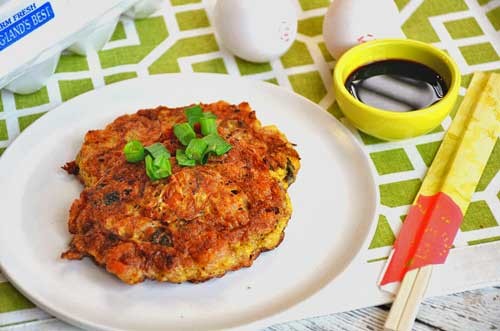 Preparation time: 20 mins. | Serves 2-4 persons
This Egg Foo Yung Recipe is taken from Chinese cuisine. It is a typical Chinese-style omelet prepared with some vegetables and meat. In this recipe, shrimps are used only while in some recipes you will find that chicken or other meat is used, so you can use whatever flavor of the meat you like.
Ingredients:
1 tbsp sesame seed oil
½ cup onion (chopped)
½ cup mushrooms (chopped)
1 cup bean sprouts
½ pound cooked shrimp (chopped)
2 tbsp soy sauce
Pinch of five-spice powder
1 tsp crushed red chili
½ tsp crushed black pepper
½ tsp Chinese salt
Salt to taste
1 tsp cornstarch
4 eggs (beaten)
3 tbsp oil
Procedure:
1. In a frying pan, heat sesame oil and 1 tbsp of oil and cook onion mushrooms, and bean sprouts for just 2-3 mins.
2. Add shrimp with all the seasonings including soy sauce, five spice powder, red chili, black pepper, Chinese salt, and salt. Mix them well and cook for 1-2 mins.
3. Now add cornstarch and stir well to mix. Remove the pan from heat and set aside to cool for 5 mins.
4. Take a mixing bowl and combine the beaten eggs and prepared shrimp and vegetable mixture.
5. In a skillet heat the remaining oil and pour the mixture into the skillet. Cook over medium heat for 2-3 mins. then turn the side and cook for a further 1-2 mins. so that it would turn into nice golden brown from both sides.
6. Serve the hot Egg Foo Yung with the topping of some spring onion slices and beef sauce or brown sauce.
photo source : 1