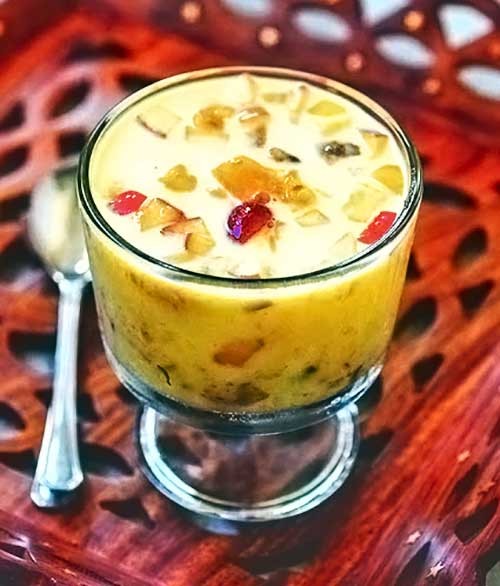 Preparation time: 30 mins. | Serves 6-8 persons
This Fruit Custard Recipe is one of the easy and healthy desserts to prepare at home. It is prepared with any seasonal fruits like apples, mango, peaches, cherries, grapes, pineapple, etc. Its taste is quite similar to the typical Trifle except for the difference in the cake/sponge layer. You can make this recipe more richer and tasty by using evaporated milk and condensed milk while making the custard.
Ingredients:
1 ltr milk
1 cup sugar
4 tbsp vanilla custard
1 tsp vanilla extract
2 apples (peeled and cut into small cubes)
2 peaches (peeled and cut into small cubes)
4 medium bananas (peeled and sliced)
½ cup pineapple chunks (drained)
½ cup red cherries (pitted)
1 cup thick cream
¼ cup currants
1 box red jelly mix
1 box green jelly mix
Procedure:
1. Cook together milk, and sugar until sugar dissolves completely, and the mixture gets boiled.
2. Dissolve custard powder in 2-3 tbsp of cold milk and gradually add it to the boiled milk mixture. Stir continuously while adding to avoid making any lumps.
3. Cook the custard mixture for 5 mins. until it becomes thick and smooth.
4. Remove the pan from heat and cool to room temperature. Stir occasionally so that a thick layer would not form on top.
5. Dissolve the red jelly mix in 1 cup hot boiling water, then pour onto the deep platter and refrigerate until it sets nicely. Similarly prepare green jelly and then cut both of them into squares.
6. In another mixing bowl combine all the fruits and mix them with cream and vanilla extract.
7. Take a serving dish or glass (for individual servings) spread half of the fruit mixture at the base, then sprinkle half of the currants and then pour half of the prepared custard. Repeat this pattern of layers and in the end, put the jelly pieces on top.
8. Refrigerate for 2-3 hrs. until it sets nicely and gets chill. Serve the tempting custard with a pineapple cake slice.
photo source : 1