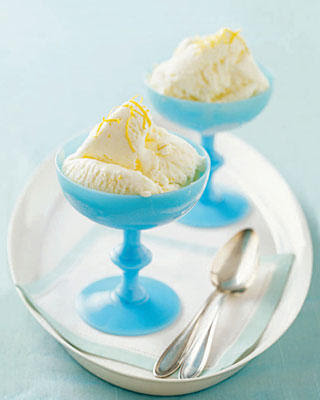 Preparation time : 20 mins + Freezing time | Serves 4 persons
This is another ice cream recipe with lemon flavor. The method of its preparation is slightly different in a sense that other ice cream recipes have milk in it while milk cannot be used in this recipe due to lemon which may spoil the milk so only whipped or heavy cream can be used. This lemon ice cream recipe is comparatively easy to make because it has very few ingredients and can be prepared in much shorter time than other ice cream recipes.
Ingredients:
2 lemon zest
220 gm fine sugar
250 ml whipped cream
160 ml lemon juice
Procedure:
1. At first make sugar syrup with lemon zest for this purpose take a sauce pan, add water approximately half cup and put lemon zest into the water. Cook them on slow heat until water boils.
2. Then add sugar and simmer until it melts and form syrup.
3. Now strain the syrup so that all the pieces of lemon zest separate from the syrup.
4. Let the syrup to cool at room temperature then add lemon juice into it.
5. After that in a mixing bowl (preferably of steel) mix the lemon syrup into the whipped cream using whisk and then place the bowl in fridge to chill.
6. In the end pour the whole ice cream batter into your ice cream machine and follow the instructions accordingly.

Serving:
Serve the delicious lemon ice cream in a beautiful serving cup and garnish it with some lemon zest.