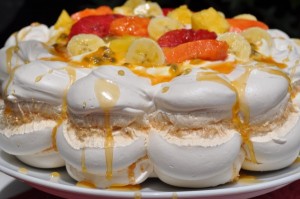 Preparation time : 90 min. | Serves 6-8 persons
This Pavlova recipe is adopted from New Zealand Cuisine where it is very famous. It is one of tempting desserts which can be prepared as main dessert at any dinner party. It can be prepared with lots variations for instance you can use any seasonal fruit for topping in place of fruit cocktail or use some chocolate syrup instead of honey, it depends upon what flavor do you like and then prepare this wonderful dessert at home.
Ingredients:
3 egg whites
Pinch of cream of tartar (optional)
4 oz caster sugar
Pinch of salt
1 tbsp corn flour
1 tsp vanilla extract
Ingredients For Filling:
1 cup whipped cream
¼ cup yogurt
1 tin fruit cocktail
Honey for drizzling
½ cup praline
Procedure:
1. To prepare pavlova base preheat oven to 350 degrees F.
2. In a mixing bowl beat egg whites with salt and cream of tartar until stiff peaks are formed.
3. Add caster sugar, corn flour and vanilla and then beat again for just 2 min. so that egg whites would remain stiff.
4. Pour the batter in a greased cake pan and make it hollow from center. Place the pan in preheated oven for at least an hour till become light brown in color.
5. Now let the hollow pavlova cool to room temperature, meanwhile combine together whipping cream and yogurt and fill it in the hollow part of the pavlova. Spread fruit cocktail and praline on top of the cream and drizzle honey over the fruits. Serve the tempting pavlova immediately.
photo source : 1