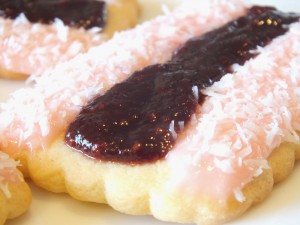 Preparation time: 45 mins. | Serves 18-20 biscuits
Iced Vovos are a kind of biscuit which are topped with yummy pink color icing and raspberry jam. These biscuits are easy to prepare and the simple frosting makes these cookies unique and attractive from other sandwich cookies.
Ingredients:
½ cup butter (softened)
125 gm sugar
1 egg
¾ cup self-raising flour
1½ cups plain flour
For Topping:
2 cup icing sugar
2 tsp softened butter
1½ tbsp boiling water
Few drops of pink color
¾ cup raspberry jam
¾ cup desiccated coconut
Procedure:
1. In a mixing bowl, cream together butter and sugar for 3-5 mins.
2. Add egg and beat again for 2 mins.
3. Combine self-raising flour and plain flour and add it to the egg batter, mix with a spoon then use your hands to make a soft dough.
4. When the perfect soft dough forms, wrap it in a plastic sheet and keep it in the fridge for half an hour.
5. After that take out the dough from the fridge, divide the pastry dough into two pieces, and roll out each of the pieces on a floured surface to a rectangular shape of 0.5cm thickness.
6. Now cut the 5cm squares from the rolled-out dough using a cookie cutter or sharp knife.
7. Place these cookies onto the greased and floured cookie tray. Bake the cookies in preheated oven at 300 degrees F for 12-15 mins. or until turns light golden in color.
8. Then take them out from the oven and cool them to room temperature on a cool wire rack.
9. To prepare to top, add sifted icing sugar, butter, and boiling water in a mixing bowl. Make sure the amount of boiling water is just enough to make a spreading consistency which may be 3-4 tbsp.
10. Add the food color to the batter and mix it well.
11. After that using a butter knife spread the topping on the two sides of the prepared cookies in lengthwise leaving center portion.
12. Take 1 tbsp of raspberry jam and carefully spread it at the center portion of the biscuit or in between the frosting layers. In the end, sprinkle some coconut on top and leave for a few mins. as it is to set the frosting.
13. You can store these Iced Vovos biscuits in an airtight container for a week.
photo source : 1