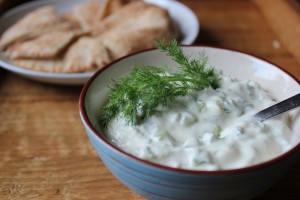 Preparation time: 5 mins. | Serves 1 medium bowl
This Recipe For Tzatziki Sauce is a healthy Mediterranean sauce. It is mainly prepared with Greek yogurt with flavors of cucumber and dill. It is usually served as a side dish in lunch or dinner meals and is also utilized in diet menus that are prepared for fitness models and athletes.
Ingredients:
1 cup Greek yogurt or low-fat yogurt
1 cucumber (finely grated and drained)
2 cloves garlic (minced)
2 tsp fresh dill
1 tsp olive oil
Salt and pepper to taste
Procedure:
1. In a mixing bowl, whisk together yogurt, olive oil, salt, and pepper and make a smooth sauce.
2. Add cucumber, garlic, and dill and mix it with a spoon.
3. Adjust seasoning according to your taste and the chill in the fridge for at least an hour.
photo source : 1