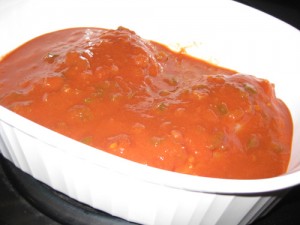 Preparation time : 5 mins.
Picante sauce is a kind of tomato salsa which is used in making casseroles, sandwiches and burgers. This sauce becomes spicy due to jalapeno but you can adjust the level of spices and other flavors according to your taste.
Ingredients:
2 lb tomatoes (peeled)
1 medium green pepper (chopped)
1 medium onion (chopped)
1 clove garlic (chopped)
1 jalapeno peppers
1/4 cup vinegar
1 1/2 tbsp sugar
1 tsp salt
Pinch of oregano
Pinch of cumin
Procedure:
1. In a blender put all the ingredients together and blend till become smooth.
2. Take out the sauce in a glass jar, cover it with its lid tightly and then place in fridge.