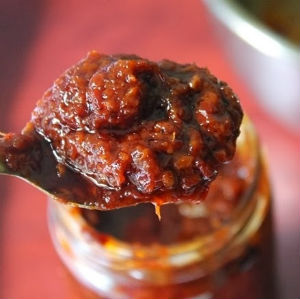 Preparation time: 20 mins. | Yields 1-2 cups
This Schezwan Sauce Recipe is a combination of Indian and Chinese flavors. This sauce is prepared with dry red chilies which makes this sauce hotter than other sauces. You can use this sauce to make Schezwan Fried Rice, Schezwan fried vegetables, dosa, etc.
Ingredients:
30 dry red chilies (deseeded and chopped)
2 tbsp spring onion greens (finely chopped)
2 tbsp celery (finely chopped)
10-15 large cloves garlic (minced)
4 tbsp ginger (minced)
¼ cup sesame oil
1 tbsp vinegar
1 tbsp soy sauce
¼ cup tomato ketchup
Salt and pepper to taste
1 tbsp sugar
Procedure:
1. Boil chopped red chilies with 1 cup of water for just 5 mins. to make them soft.
2. Drain the boiled chilies and blend them, use the leftover boiled water to make chili paste.
3. Heat sesame oil in a saucepan and sauté ginger garlic in it for 1-2 mins. or until becomes light golden in color.
4. Add the prepared chili paste, spring onion, and celery; stir and cook for 1-2 mins.
5. Then add the remaining ingredients including ketchup, soy sauce, vinegar, salt, and pepper. Mix well and cook for 5-6 mins. or until the oil separates from the sauce.
6. Remove the pan from heat, cool the sauce to room temperature, and then store it in an airtight container.
photo source : 1