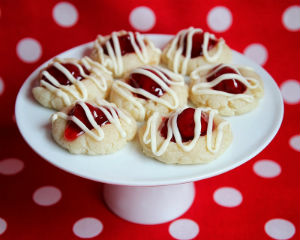 Preparation time: 30 mins. | Serves 18-24 cookies
The name clearly tells the anatomy of these cookies; yes! They are prepared with the centered topping of Cherry Pie Filling, which makes these cookies delicious. Besides the use of cherry pie filling, the dough of these Cherry Pie Cookies is also buttery and smooth which enhances the flavor. You can use the same dough and different pie filling for making different flavors of cookies.
Ingredients:
1 stick butter (softened)
1 stick margarine (softened)
¾ cup powdered sugar
2 cups all-purpose flour
1 tsp vanilla
Cherry Pie Filling as required
For Cherry Pie Filling:
5 cups fresh pitted cherries
½ cup water
2 tbsp fresh lemon juice
2/3 cup granulated sugar
4 tbsp cornstarch
Procedure:
1. To prepare dough for the cookies, beat together butter and margarine at high speed for 3-5 mins. until becomes light and fluffy.
2. Add flour, sugar, and vanilla to the butter mixture and knead a soft smooth dough.
3. Now prepare the cherry pie filling, for that you need to cook together cherry, water, lemon juice, and sugar in a saucepan and bring to a boil.
4. Dissolve cornstarch in 2 tbsp water and add it to the cherry mixture, stir continuously, and cook for 2-3 mins. until the sauce gets thick. This is your cherry pie filling.
5. Make small balls of lemon size and place them onto the greased baking sheet. Press using your thumb at the center and set aside.
6. Drop 1-2 cherries with a glaze of pie filling at the center well of the cookie balls.
7. Place the baking sheet in preheated oven at 325 degrees F for just 12-15 mins. or until cookies turn golden in color.
8. Cool the cookies to room temperature and then serve with a topping of white chocolate sauce.
photo source : 1