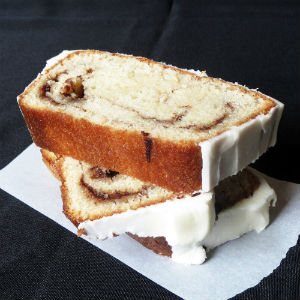 Preparation time: 50 mins. (approx.) | Serves 4-6 persons
This Cinnabon Cake Recipe is not the exact Cinnabon recipe but is inspired by it. The recipe is prepared in three steps; first prepare the cake batter, then the cinnamon butter mixture, and then the cream cheese frosting. All these flavors combine to give delicious Cinnabon cake.
Ingredients:
For Cake:
3 cup flour
¼ tsp salt
1 cup sugar
4 tsp baking powder
1½ cup milk
2 eggs (lightly beaten)
2 tsp vanilla extract
½ cup butter melted
For Cinnamon Butter Topping:
1 cup butter, melted
1 cup brown sugar
2 tbsp flour
1 tbsp cinnamon
For Cream Cheese Frosting:
3 oz cream cheese
¼ cup softened butter
1½ cups powdered sugar
Milk as required
Procedure:
1. In a mixing bowl, combine flour, salt, sugar, and baking powder and make a smooth batter using milk and eggs.
2. When the batter becomes smooth, add melted butter and vanilla and mix well.
3. Take a loaf pan or rectangular baking dish, grease it with butter, and pour the prepared batter into the dish.
4. Now prepare cinnamon butter topping, for that you need to combine all the ingredients mentioned for making this mixture and mix well. It should be thick.
5. Drop this cinnamon mixture onto the prepared batter at a few distances and then mix using a knife edge to give a marble-like texture.
6. Bake in preheated oven at 350 degrees F for 30-40 mins. or until the knife inserted comes out clean.
7. Meanwhile prepare cream cheese frosting, beat cream cheese, butter, and sugar until creamy, and then add a few drops of milk just to get a spreadable consistency.
8. Take out the cake from the oven and cool it to room temperature, apply the cream cheese frosting on top and serve after cutting it into slices.
photo source : 1