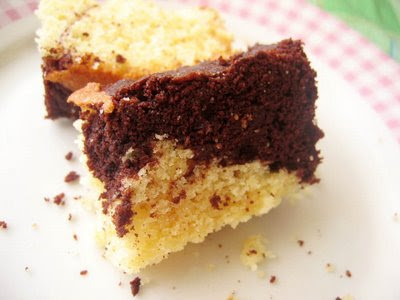 Preparation time (approx) : 40 mins | Serves 6 persons
The name,
Marble cake
clearly describes how this cake will look. The scattered pattern of chocolate flavor and color gives it marble like appearance after baking. It is a type of margarine or butter cake in which coco powder is used in half portion of cake and mixed randomly to give marble texture.
Ingredients:
2 eggs
4 oz plane flour
4 oz icing sugar
4 oz butter melted (or 2 oz oil and 2 oz butter)
1 tspn baking powder
Liquid chocolate or chocolate syrup as required
Procedure:
1. Follow the steps from 1 to 7 of plain cake.
2. Add 2-3 tbspn (according to your taste) chocolate syrup in it and using stick slowly mix syrup in it in circle. Don't mix the syrup completely only mix to see the color layers.
3. Preheat oven at 180oC. Put the mixture in the baking bowl and bake for 20-30 minutes. To check weather the cake is done, insert knife in the cake take out if no batter stick on it, then cake is ready.
Servings:
Marble cake is served with tea or any drink like pina colada.