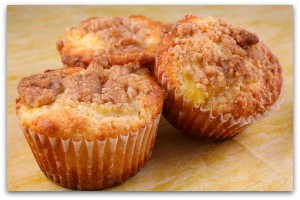 Preparation time: 30 min. | Serves 16 small muffins
This pineapple muffins recipe is prepared with sour cream and vanilla pudding mix flavor hence have slightly different taste. These muffins will also be prepared with whipped cream but in that case you will have to add lemon juice to adjust the flavor like these muffins.
Ingredients:
2 cup flour
2 tsp baking powder
½ tsp baking soda
3½ oz instant vanilla pudding
1 cup confectioner's sugar
1 egg (beaten)
1 cup sour cream
8 oz pineapple with juice (chopped)
½ cup oil
Procedure:
1. Sift together dry ingredients including flour, baking soda, baking powder, pudding mix and sugar.
2. In a mixing bowl beat eggs at high speed for a minute then mix it with sour cream at medium speed.
3. Add pineapple chunks and oil to the egg mixture and fold it evenly.
4. Now gradually add dry mixture to the batter and mix until become smooth batter.
5. Now take greased muffin pan and pour batter in each cup make sure that cup should be filled only 3/4.
6. Place the muffins tray in preheated oven at 450 degrees F for 15 min till becomes golden brown from top and knife inserted comes out clean.
photo source : 1