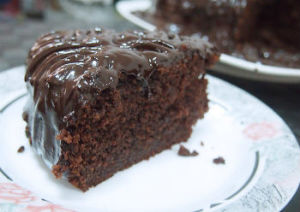 Preparation time: 50 mins. (approx.) | Serves 8 persons
This Chocolate Yogurt Cake Recipe is a kind of moist chocolate cake that is prepared with yogurt. The addition of Greek Yogurt and the use of comparatively less amount of butter make this a healthy chocolate cake. So, you can eat it more if you are a chocolate lover.
Ingredients:
For Cake:
3 oz butter (softened)
10 oz sugar
2 eggs
6 oz flour
4 oz unsweetened cocoa powder
1 ½ tsp baking powder
½ tsp baking soda
½ tsp salt
8 oz Greek yogurt
2 oz milk
1 tbsp vanilla extract
For Glaze:
4 oz bittersweet chocolate
3 tbsp butter (softened)
2 oz milk
2 oz sugar or to taste
Procedure:
1. In a mixing bowl, cream together butter and sugar until become thick and creamy.
2. Add eggs one by one and beat to make the smooth foamy batter.
3. Sift together flour, baking powder, baking soda, and salt and add this mixture to the egg batter and mix well at low speed.
4. Now add yogurt, milk, and vanilla and mix them well to make a smooth batter.
5. Pour the batter into the bundt pan or any rectangular cake pan; make sure the pan is already greasy and dusted with flour.
6. Bake in preheated oven at 350 degrees F for 30-40 mins. or until the toothpick inserted comes out clean.
7. Meanwhile, prepare the glaze for the cake, in a saucepan combine chocolate, milk, and butter over low heat until the chocolate melts completely.
8. Then add sugar and mix well. When the sauce gets thick remove the pan from heat and set aside.
9. When the cake is done, cool it to room temperature then drizzle the prepared sauce over the whole cake.
photo source : 1