Not every home cook is an expert in cutting vegetables, particularly when you need to cut according to the recipe. For instance, most pasta foods, stir fry vegetables and salads need julienne shape vegetables or thin strips of vegetables; cutting julienne shape vegetables is quite a big deal for home cooks. Therefore, we usually use cutters, peelers, and slicers not only t get the desired output but also to save time and our hands from injury.
How To Cut And Where To Use These Vegetables?
Most of the time we don't know which type of tools are best for cutting vegetables of a particular shape or which shape would suit better for the food. Here I am going to tell you that usually pasta dishes, salads, stir-fried vegetables, and soups require julienne shape (thin strips) veggies. Whereas, vegetables used in making main courses like curry, casserole, and rice needs diced and chopped vegetables. Sometimes you also need slices of vegetables for making salads, food like ratatouille, etc. Therefore, you must need a dicer, slicer, peeler, and julienne cutter in your kitchen if you want to make proper food.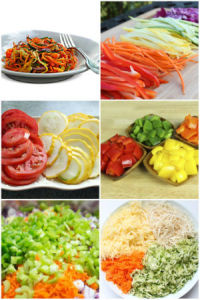 Cut Vegetables In Julienne Shape
Usually, julienne cutting takes a lot of time when done with your hands or may cause injury if you are not an expert. Therefore, you should need a proper julienne cutter, which comes in different forms including a peeler shape and a twister shape. The peeler-shape julienne cutter gives you straight thin strips of vegetables whereas; the twister-shape julienne cutter delivers spiral shape vegetables.
The spiral shape vegetables look good when you use them in making vegetable pasta and salads. The most common type of spiral slicer is made of a combination of two materials plastic and stainless steel. The handle and blade are made of stainless steel whereas, the body is made of plastic. This type of cutter is very easy to use and saves you time. It really helps when you have to make multiple dishes for a party. So, use the good quality spiral julienne cutter for getting the desired output and making your favorite food easily.