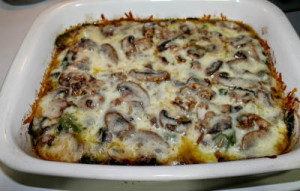 Preparation time: 50 mins. | Serves 6-8 persons
This Fancy Pants Chicken is an easy chicken casserole, which doesn't need any more cooking except baking. You just need to put ingredients in layers and bake for an appropriate time; a delicious casserole is then ready to serve.
Ingredients:
3 lb boneless chicken breasts (cut into thin slices)
6-8 slices of smoked chicken or turkey bacon
1 small bag of fresh baby spinach
8 oz fresh mushrooms (sliced)
2 oz savory herb and garlic
¾ cup chicken stock
2 tbsp lemon juice
¼ cup olive oil
8 oz shredded mozzarella
For Savory Herb And Garlic:
4 oz chicken bouillon granules
¼ tsp black pepper
1 tbsp onion powder
1 tbsp garlic powder
1 tbsp each dried parsley, rosemary, sage, and thyme
½ tbsp sugar
Procedure:
1. In a mixing bowl, whisk together olive oil, chicken stock, lemon juice, and savory herb and garlic until well combined.
2. Marinate chicken slices in the mixture for 15 mins.
3. To make Savory Herb and Garlic, combine all the ingredients mentioned for it. It would yield around 5 oz.
4. Take a rectangular greased casserole, line the marinated chicken slices at the base, and reserve the leftover marinade.
5. Now start making layers of smoked chicken pieces, fresh spinach, and mushrooms one by one. In the end, pour the leftover marinade on top.
6. Cover the dish with aluminum foil and bake in preheated oven at 375 degrees F for 30 mins. or until all the ingredients are cooked well.
7. Take off the foil sheet, spread mozzarella cheese on top, and bake again for 5 mins. until the cheese melts.
8. Serve the hot Fancy Pants Chicken with garlic bread or rice.