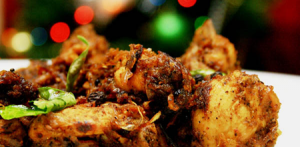 Preparation time : 30 mins. | Serves 4 persons
Chettinad Chicken is a famous food from South Indian cuisine. Its a bit spicy chicken recipe prepared with lots of whole red chilies but tastes great. It is usually served with boiled rice or traditional bread.
Ingredients:
2 lb chicken (medium pieces)
1 tbsp ginger garlic paste
Salt to taste
½ tsp turmeric powder
6 tbsp oil
2 cup onions (chopped)
¾ cup tomatoes (chopped)
1 tsp fennel
10-15 whole red chilies (chopped)
2 bay leaves
2 aniseed or star anise
1 tsp black peppercorns
Procedure:
1. Marinate chicken with salt and turmeric.
2. Heat oil in a pan, fry onion with fennel, bay leaves, anise seeds, black peppercorns and red chilies until onion become golden brown.
3. Add in tomatoes and ginger garlic paste and cook till they become soft and mashed.
4. Now add chicken with enough amount of water to cook chicken and then simmer for 15 mins. till chicken is done. Make sure that don't add too much water, this chettinad chicken don't have much gravy.
5. After that serve the hot chettinad chicken with rice or bread.
photo source : 1