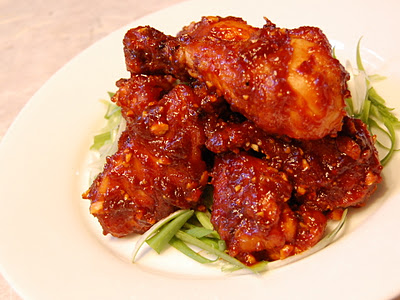 Preparation time : 40 min. | Serves 2 persons
This southen fried chicken recipe is prepared with spicy tomato sauce which is topped over the fried chicken. The chicken is not spicy alone but with the topping of sauce it gets spicy which tastes delicious. You may also try chicken maryland which is also a kind of southern chicken without any sauce topping instead of it chicken maryland is served with vegetable fritters.
Ingredients:
For Chicken:
1 lb chicken
Pinch of thyme
Pinch of oregano
2 egg whites
Bread crumbs
1 tbsp garlic paste
½ tsp white pepper powder
½ tsp crushed black pepper
2 tbsp lemon juice
Salt to taste
Oil for deep fry
For Tomato Sauce:
2 star anise (chopped)
2-3 whole red chili
6 tomatoes
5 garlic cloves
1 tbsp corn flour
1 tbsp oil
½ tsp mustard powder
2 tbsp tomato puree
2 tbsp brown sugar
2-3 tbsp vinegar
Salt to taste
Procedure:
1. Marinate chicken with the ingredients mentioned for chicken except bread crumbs for 15 mins.
2. Then coat chicken with bread crumbs and fry in preheated oil till become golden brown and crisp. It would take 8-10 mins.
3. To prepare sauce, tomatoes to make them soft, then remove skin and blend to make smooth paste.
4. Heat in pan and fry cloves of garlic for just a min. then add star anise, vinegar, brown sugar and whole red chili. Cook for few min till pleasant aroma starts to come.
5.Then add blended tomatoes with mustard powder, tomatoes puree and salt and let them cook till sauce starts to boil.
6. Then pour the whole sauce in blender and blend.
7. After that transfer the blended sauce again in saucepan, cook to boil then add corn flour (dissolve in 2 tbsp of water) to make the sauce thick.
8. When the sauce gets thick like ketchup pour it to the fried chicken and serve immediately.
photo source : 1