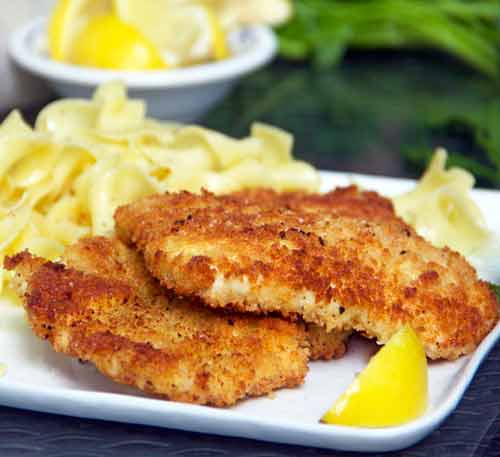 Preparation time: 20 mins. | Serves 4 persons
Schnitzel is just like a shallow fried steak that can be prepared with any kind of boneless meat. This Chicken Schnitzel Recipe is prepared with chicken breasts as it takes a very short time to cook as compared to red meat. It is served with mashed potatoes, pasta, fresh salad, and any kind of dip.
Ingredients:
4 boneless chicken breasts (cut each into two slices)
1 tbsp lemon juice
1 tsp salt
1 tsp hot paprika powder
1 tsp crushed black pepper
¼ tsp dried oregano
¼ tsp dried basil
1 tsp ginger powder
1 tsp garlic powder
1 cup panko breadcrumbs
1 egg (lightly beaten)
Flour as required
Oil for shallow frying
Procedure:
1. Slightly flatten the chicken pieces using a meat tenderizer.
2. Marinate chicken with lemon juice and salt and set aside for a few mins.
3. Add all the seasonings to the breadcrumbs and mix well.
4. Now first dust the chicken pieces with flour, then dip in egg, and then coat with breadcrumbs mixture.
5. Heat oil for shallow frying in a frying pan and then fry the chicken pieces in batches. Cook for 4-5 mins. each side or until becomes golden brown and crisp from the outside.
6. Serve the hot Chicken Schnitzel with cooked pasta and vegetable salad.
photo source : 1