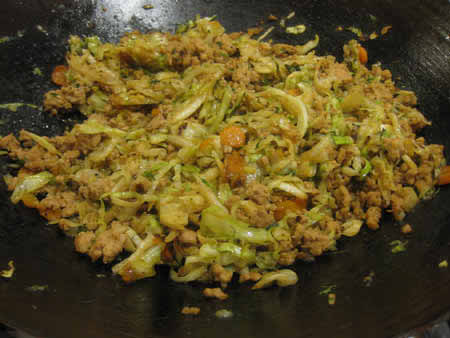 Preparation time: 20 mins. | Serves 2-4 persons
This Chicken And Cabbage Stir Fry is a healthy, quick, and easy recipe. In this recipe, chicken mince is cooked with a little seasoning and then combine with stir fry cabbage. This is best to serve it as it is or you can serve it as a complete meal steamed.
Ingredients:
4 tbsp vegetable oil
4 cloves garlic (minced)
1 lb ground chicken
Salt to taste
1 tsp freshly grated black pepper
1 tsp crushed cumin
¼ tsp crushed red pepper
¼ cup carrots (sliced)
1 small cabbage (shredded)
Procedure:
1. In a skillet, heat 2 tbsp oil and cook chicken with garlic in it for 3-5 mins. until the chicken turns white.
2. Then add seasoning of salt, pepper, cumin, and red pepper and cook for 5 mins more.
3. Now add sliced carrots and simmer for 5 mins.
4. After that, take out the chicken mixture into a bowl and set aside.
5. In the same skillet, add the remaining oil and stir fry cabbage in it for just 3-5 mins. until becomes slightly soft but remains crunchy.
6. Add this cabbage to the chicken mixture and mix well.
7. Healthy chicken and cabbage stir fry is now ready to serve.
photo source : 1