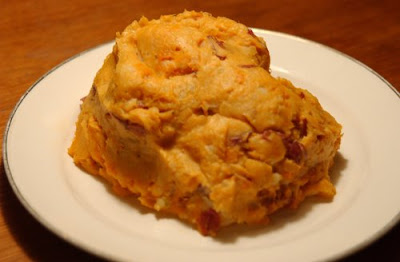 Preparation time 25 mins | Serves for 4 persons
Talking about vegetarian cooking and here we have one of those healthy meals that I enjoy to cook. These are mashed potatoes. Mashed potatoes are prepared by a variety of methods and are considered easy and quick meals that can be made and served at all times.This recipe is of Indian mashed potatoes which is also called "Aloo ka Bhurta" in Pakistani and Indian Cuisine

Ingredients:


3 big potatoes
1 medium onion (julienne)
4-5 dry red pepper
Salt to taste
3 tbspn oil

Procedure:


1. Take some water in a deep pan to boil potatoes. It takes 20 mins approx. [Tip : using a kitchen digital timer will assist you in timing a lot of cooking tasks such as baking / cooking times , marination etc]
2. In a pan, put oil, add onion and peppers to it and fry till onion become brown and crispy. To make crispy fried onions always put onion in cold oil and continually stir while frying.
3. After that drain out fried onions and pepper from the oil and let it cool.
4. Sprinkle salt on the onions and pepper and crush them using hands.
5. Remove the skins from the boiled potatoes and mashed them well.
6. Mix the crushed onions and pepper in the potatoes and make smooth dough by using few drops of oil.

Servings:


Mashed potatoes are ready to serve with boiled rice and lentil soup (daal).