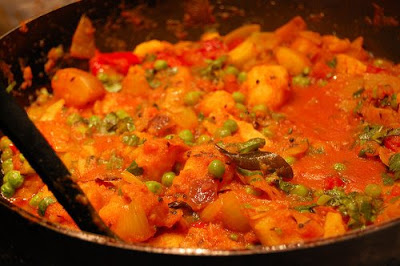 Preparation time 30 mins | Serve 4 persons
Seasonal vegetables have various health benefits and besides using them just in salads, they can also be utilized in cooking complete vegetarian food. Vegetarian cooking is full of fun and not to mention that it is full of nutrition and life too. I sometimes modify some vegetarian recipes and make my own by adding various spices to it. In this recipe of vegetable curry, I have used some spices, carrots, turnip and peas which are easily available here during the winter season.This spicy and chili vegetarian curry tastes best when fresh veggies are used and this is one of the mostly shared cooking tips that I follow and recommend when making any form of vegetable meal.
Ingredients:


1 cup carrot (Chopped into small square pieces)
1 cup turnip (Chopped into small square pieces)
1/2 cup peas
2 onion (julienne)
2 tomato (chopped)
1 tbspn red chili powder
1 tsbpn cumin powder
1 tspn black pepper
1 tspn dry fenugreek leaves (dry methi)
Salt to taste
Coriander leaves as required
3 tbspn oil
2 cups water



1. Boil carrots, turnip and peas in 2 cups of water and pich of salt and sugar for 10-15 mins untill veggies become soft.
2. Drain out boiled vegetables and keep the drained water in a bowl.
3. In a pan, put oil and fry onions till they become light brown in color.
4. Now add tomato, red chili powder, salt, cumin powder, black pepper and reserved boiled vegetable water and cook them on medium heat untill tomato become completely soft. It takes 5 min approx.
5. After that put the boiled vegetables in the gravy and mix well.
6. In the end, sprinkle some dry fenugreek leaves and coriander leaves and cover for 3 min so that aroma of these herbs remain inside the curry.

Serving:


Healthy and spicy vegetable mix curry is ready to serve with boiled rice but I personally like to eat it with paratha.