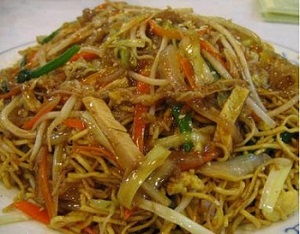 Preparation time : 30 mins. | Serves 4 persons
This chowmein recipe is one of the most popular food from Chinese cuisine. It is generally prepared with vegetables and chicken but small size shrimps can also be added to this chowmein recipe. Like other Chinese food chowmein can be prepared in quick time.
Ingredients:
500 gm boneless chicken (cut into julienne)
1 cup spring onion (finely chopped)
1 medium size onion (chopped)
1 small cabbage (julienne)
3 medium size capsicum (julienne)
1 tbsp ginger garlic paste
1 tsp black pepper
1 tsp white pepper
1 tbsp chicken powder
1 tsp cornflour
1 pack noodles
3 tbsp soya sauce
2 tbsp chili sauce
1 tbsp ketchup
3 tbsp white vinegar
Salt to taste
4 tbsp vegetable oil
Procedure:
1. Marinate chicken in 1 tablespoon of each vinegar, soya sauce, chili sauce and corn flour for 30 mins.
2. Meanwhile boil noodles in salt water and with 1 tablespoon of oil so that they may not sick with each other.
3. Now take a non-stick pan and fry chopped onions for just 2 mins. or until they become translucent.
4. Add ginger garlic paste and marinated chicken in the onions and cook on medium heat until the color of chicken changes to light golden. It would take 5-8 mins.
5. After that add all the vegetables to the chicken and cook on high flame for 3-4 mins.
6. Add all the sauces and seasonings including soya sauce, chili sauce, vinegar, white pepper, black pepper, salt, ketchup and chicken powder. Mix these flavors in the vegetables and chicken mixture and let it cook on high flame for just 5 mins. Stirring continuously to avoid sticking the mixture and cook evenly.
7. When all the flavors are nicely mixed, then remove the pan from heat and add boiled noodles in the mixture, toss with fork and mix these noodles well in the chicken vegetable mixture.
photo source : 1