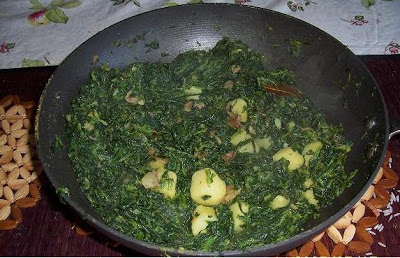 Preparation time : 30 mins | Serves 4 persons
Spinach is called "Palak" in Urdu and is prepared in slightly different way in South Asian cuisine. This aloo palak recipe is one of the common vegetable foods in which boiled and meshed spinach is cooked with potatoes. The interesting thing is that spices are not used in making this recipe. Only green chilies are used to make it little spicy but it has great taste because of fenu greek leaves which not only gives it wonderful smell but also enhances the flavor of spinach in this dish.

Ingredients:
1 kg spinach (palak)
4-5 green chilies
3 medium size potatoes (cut into small cubes)
1 medium size onion ( cut into julienne)
Salt to taste
1/2 tspn black pepper
1/4 cup oil
1/2 cup fenu greek (methi) leaves
Procedure:
1. Take a sauce pan, boil spinach and fenu greek leaves for 8-10 minutes on medium heat by covering the pan and don't add extra water. When the water of spinach has been dried remove the pan from the stove.
2. In the mean while when spinach is boiling, fry potatoes, chilies and onion in a frying pan. At first fry onion and potato together and when color of onion starts to change then add green chilies and salt, and fry them for 3-4 minutes more until onion becomes light brown.
3. When spinach has been boiled mash it using hand masher so that large leaves of spinach would not be there.
4. Now add fried onion, potato and chilies and black pepper in the spinach and let them cook on medium heat for 5-8 minutes more so that potato become completely done.
Note : To properly clean spinach always use salad spinner as its easily clean all the germs from the leaves or lettuce.