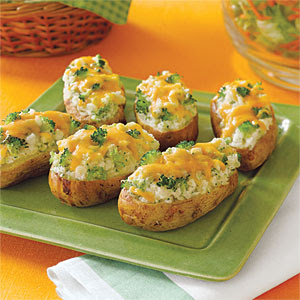 Preparation time : 30 mins | Serves 4-6 persons
This is an easy stuffed baked potatoes recipe in which mayo stuffing is used. You may also make variations in the stuffing according to your taste. Potato skin has not been removed after roasting which you may remove if you don't like it.
Ingredients:
3 large size potatoes
1 cup mayonnaise
1 tbsp dried parsley
1/2 cup boiled broccoli (mashed) (optional)
Pinch of salt
1 tsp crushed black pepper
1/2 tsp red chili flakes
1/2 cup boiled shredded chicken
Shredded Cheddar cheese
Procedure:
1. Roast potatoes in oven at 350 degree F for 15-20 mins. until potatoes becomes tender fro inside.
2. Now cut each potato into two pieces and make each of the piece hollow from center and set aside the flesh. Potatoes are made hollow so that stuffing could be placed easily.
3. To make stuffing take a mixing bowl and whisk mayonnaise with 2-3 tbsp of mashed potatoes (obtained as flesh) until become smooth.
4. After that mix parsley, boiled chicken, broccoli, crushed black pepper, rec chili and salt.
5. Now put 2 tbsp of prepared stuffing into the hollow baked potatoes and spread some cheddar cheese on top. Stuffed every potato in the same way.
6. In microwave, place these baked potatoes for just 2-3 mins. and then serve the hot stuffed baked potatoes.