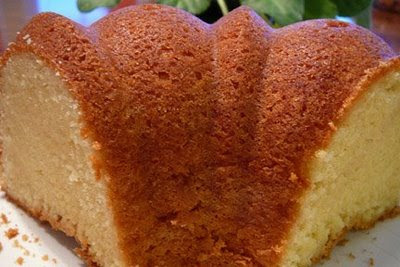 Preparation time : 80 mins | Serves 6 persons
This
cream cheese pound cake
is one of a kind of plain cake, the only addition is cream cheese which makes it soft. Don't use margarine instead of butter otherwise your cake would become more salty. This pound cake is usually served as tea time snack.
Ingredients:
1 1/2 cup butter (softened)
8 oz cream cheese (softened)
3 cup sugar
6 eggs
Few drops of vanilla extract
1 tsp lemon juice
3 cup all purpose flour
1/2 tsp baking powder
1/4 tsp salt
Procedure:
1. Preheat oven at 350 degree F.
2. In a large mixing bowl, smooth butter and cream cheese for 4-5 mins. until become light and fluffy.
3. After that gradually add sugar and beat until all the sugar particles mixes well and the batter would become smooth, it would take 3-4 mins.
4. Take two other mixing bowls to separate egg yolks and egg whites. Beat egg whites until become foamy.
5. Add egg yolks to the cream cheese mixture and beat to mix them together.
6. Now pour the egg whites and vanilla extract into the batter and mix.
7. Mix dry ingredients together including flour, baking powder and salt and then fold it in the batter so that no limps would remain in the batter.
8. Take a suitable cake pan and grease it using melted butter. Pour the batter onto it and bake for 60 mins. at 350 degree F.