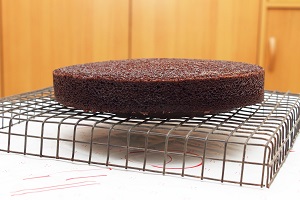 Preparation time: 50 mins. | Serves 8-inch cake
This Eggless Butterless Cake recipe is a blessing for vegetarian lovers who can't enjoy the taste of baking goods. This healthy cake requires the same ingredients as we use in other cakes except for butter and egg; to balance the flavor and texture the amount of ingredients is varied and vegetable oil is used instead of butter.
Ingredients:
1½ cup flour
3 tbsp cocoa
1 cup sugar
1 tsp baking soda
½ tsp salt
1 tsp white vinegar
1 tsp vanilla extract
5 tbsp vegetable oil
1 cup hot water
Procedure:
1. Sift together dry ingredients in a mixing bowl and make a large well in the center.
2. Add vinegar, vanilla, and oil into the well and start mixing them with the dry mixture.
3. Slowly pour the water into the mixture and mix using a wooden spatula to make a smooth batter.
4. When the batter becomes smooth and shiny, transfer it into the greased and dusted baking pan and tap 2-3 times to escape any air bubbles.
5. Place the pan in preheated oven at 350 degrees F for 30-40 mins. or until the toothpick inserted comes out clean.
6. When the cake is ready take it out of the oven and cool it on a wire rack. You can apply chocolate fudge on the top to make it moist.
photo source : 1