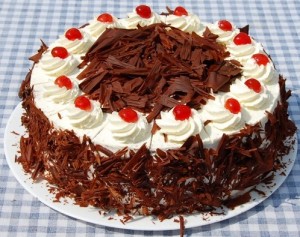 Preparation time : 60 mins. + 30 mins Chill time| Serves 12-16 persons
This black forest cake is one of the tempting cakes which can be prepared for special occasions. Though many of you prefer to buy or order it from store as its decoration needs some time and skills but it can be easily prepare at home if you spend some time. This recipe of black forest cake is simple and easy so that you can celebrate any event at home with this delicious homemade cake.
Ingredients:
For Sponge:
6 eggs (separated)
6 oz caster sugar
6 oz all purpose flour
2 tsp baking powder
2 tsp coco powder
2 tbsp milk
For Filling and Topping:
2 cup dairy cream
1 cup icing sugar
2 medium size peaches (chopped)
1 cup water
Red cherries as required
1 cup grated chocolate
Procedure:
1. Beat eggs for 8-10 mins until become foamy and white.
2. Gradually add sugar and beat to make a thick creamy batter
3. Sift together flour, baking powder and coco powder, slowly add it to the egg mixture and fold the batter with the dry mixture using soft hands so that the batter would not sit and remain fluffy otherwise your sponge will not make soft and light. For better mixing you should fold the batter in clockwise direction and don't apply pressure to the spatula mix only with light hands.
4. Now take a circular or rectangular baking pan and grease and dust with flour. Pour the batter into this pan and then place in preheated oven for 30-35 mins at 350 degrees F until become done.
5. Meanwhile prepare peach sauce, for that you need to cook peaches with water and half cup of sugar for 8-10 mins until sugar mix completely into the water and the sauce gets little thick.
6. Now beat the dairy cream with remaining sugar for 2-3 mins to make it whipped cream.
7. When the sponge has been done cool it to room temperature and then divide it into two pieces from the center.
8. Pour the prepared peach juice on both the pieces of cake to make them moist, then take the lower piece and spread 1/3 amount of whipped cream on it to cover the top surface and sprinkle the chunks of peaches onto the cream.
9. Carefully place the upper piece of cake onto it and then cover it with remaining whipped cream from every side smoothly. Sprinkle the grated chocolate on top and sides of the cake so that it sticks to the cream and then top with red cherries.
10. Now place the tempting black forest cake in fridge to set for at least 30 mins then serve it by cutting into pieces.
photo source : 1