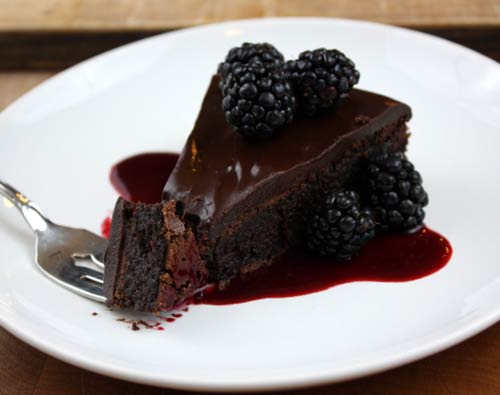 Preparation time : 40 mins. (approx.) | Serves 8 persons
This Flourless Chocolate Torte Recipe is prepared with topping of delicious chocolate ganache. The cake of this torte is prepared with almond flour instead of flour and thus the cake has some different taste. You can either prepare this chocolate torte in stack of layers of ganache and cake or simply make a layer of ganache on top of cake.
Ingredients:
For Cake:
10 oz margarine
10 oz sugar
9 eggs (separated)
10 oz semisweet chocolate (shaved or shredded)
10 oz almond flour
For Chocolate Ganache:
8 oz butter
20 oz whole milk
24 oz semisweet chocolate chips
2 oz margarine
Procedure:
1. To prepare cake, cream together butter, sugar and egg yolks in a stand mixer bowl at medium speed, then increase the speed after 2 mins. and beat till the mixture becomes light and fluffy.
2. After that, add shaved chocolate and almond flour to the batter and mix at low speed until becomes smooth, then increases the speed to medium and beat for just a minute.
3. Now in a separate mixing bowl, beat egg whites at high speed until stiff peaks are formed, it would take around 3 mins. Don't over beat the egg whites, otherwise they get curdle.
4. Add egg whites to the chocolate batter in three portions and you just need to mix them using spatula after each addition.
5. When the batter mixes evenly, pour it to the greased round baking pan lined with parchment sheet and bake in preheated oven at 350 degrees F for about 20 mins. or until toothpick inserted into the center comes out clean.
6. Meanwhile prepare chocolate ganache, for that you need to simmer milk over medium heat below boiling point.
7. Meanwhile melt butter and set aside.
8. Remove the pan from heat, add melted butter to the milk and mix well, then add chocolate chips and margarine. Lightly stir the chocolate in the pan (or swirl it) just to dip them in the liquid and then leave for 5 mins.
9. After that, gently stir the mixture to mix chocolate evenly but make sure that you don't need to whisk or beat the mixture to avoid making air bubbles. Let it stand as it is for 15 mins. to cool.
10. When the cake is done, allow it to cool completely.
11. Transfer the cake to a wide cake platter and then pour the prepared chocolate ganche on top of the cake so that it covers the cake from all around. Place some blackberries on top and then refrigerate for few mins. to set the frosting.
12. Serve the delicious gluten-free Flourless Chocolate Torte after cutting into slice.
Note:
• In order to make perfect chocolate ganache you may use3 cups of Coffee Rich instead of milk and butter; and follow the steps as shown above to make ganache.
• You may also assemble cake by cutting into layers and apply ganache frosting on each layer to make stack and then cover with ganache in the same way as mentioned in the recipe above.
photo source : 1