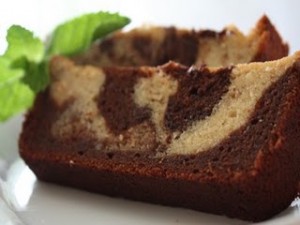 Preparation time : 45 min. | Serves 12 persons
This banana chocolate chip cake is one of a marble cake which is prepared with chocolate chips. The recipe is more or less similar to banana cake just addition of coco powder to give marble texture and chocolate chips which make it chocolate rich banana cake.
Ingredients:
1 ½ cup all-purpose flour
1 ½ tsp baking powder
1 tsp baking soda
½ tsp salt
¾ cup granulated sugar
½ cup margarine (softened)
2 eggs
1 cup mashed ripe bananas
1 tsp vanilla extract
2 tbsp cocoa
1 tbsp granulated sugar
½ cup chocolate chips
Procedure:
1. Sift together dry ingredients including flour, baking powder, baking soda and salt.
2. In a large mixing bowl cream margarine and sugar until become smooth and creamy.
3. Add eggs one by one and beat gently after each addition.
4. Now add mashed banana and vanilla to the mixture and mix well.
5. Gradually add dry mixture to the banana mixture and mix using wooden spatula.
6. When sooth batter would form then take out 5-6 tbsp of this batter in a small bowl and mix it with cocoa.
7. Add chocolate chips in vanilla batter and mix.
8. Take a suitable greased cake pan and spread half of vanilla batter onto the base, pour half of the cocoa batter on it and spread it using spoon so that patches of this batter spread everywhere. Now again pour rest of the vanilla batter and put remaining cocoa batter in similar pattern on it.
9. Place the pan in preheated oven for 30 min at 350 degrees F.
10. When cake is done take it out from oven, cool it to room temperature on wire rack and then cut it into slices for serving.
photo source : 1