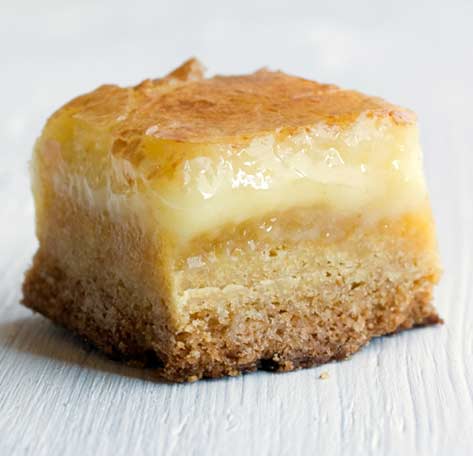 Preparation time: 60 mins. | Serves 16 bars
This Butter Cake Bars Recipe is prepared with two layers; butter cake dough and cream cheese frosting. Both these layers bake together and give a delicious flavor to cake bars. You can use the same recipe for different cake flavors like chocolate cake.
Ingredients:
1 box yellow cake mix
½ cup butter (melted)
3 egg
8 oz cream cheese
3¾ cups powdered sugar
1 tsp vanilla
Procedure:
1. In a mixing bowl, whisk together cake mix, 1 egg and melted butter and make a soft smooth dough.
2. Transfer this dough to the greased baking dish and press it to spread around the base evenly.
3. To prepare cream cheese topping, beat together cream cheese, sugar, vanilla, and remaining eggs.
4. When the mixture becomes creamy and smooth, spread it over the butter cake dough and place the dish in preheated oven at 350 degrees F for 45 mins. or until it runs golden brown from the sides and the top becomes a little firm.
5. When the butter cake bar is ready, cool it to room temperature and then cut it into square bars before serving.
photo source : 1