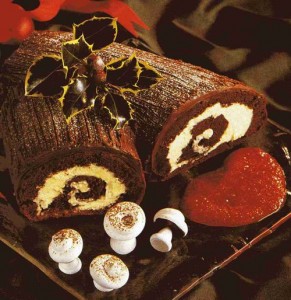 Preparation time : 40 min. | Serves 6-8 persons
This chocolate log recipe is prepared with simple method only ganache is used both for filling and topping while in some other chocolate logs inside whipped cream is used for filling. You can make this chocolate log for Christmas by decorating it with edible sugar flowers, tree, etc.
Ingredients:
For Sponge:
3 eggs
75 g (3 oz) caster sugar
2 tablespoons cocoa powder
2.5 oz plain flour (sifted)
For Ganache:
8 oz semisweet chocolate (cut into small pieces)
¾ cup heavy whipping cream
1 tbsp unsalted butter
Procedure:
1. To prepare sponge, whisk the eggs and sugar until become light and fluffy.
2. Fold the egg batter with cocoa and flour and make it smooth.
3. Pour the batter into the greased Swiss roll pan and bake in preheated oven for 8-10 min at 350 degrees F.
4. Meanwhile sponge is baking prepare ganache, heat the cream and butter in a saucepan over medium heat. When it starts boiling remove the pan from heat and immediately pour it over the chocolate and leave it as it is for 5 min. Stir the batter so that chocolate mix well with the cream batter and let it cool to room temperature.
5. Now take out sponge from oven, place a parchment sheet onto the counter sprinkle icing sugar over it and turn the sponge onto the icing.
6. Place another parchment sheet onto the top of cake and roll up tightly. Let it cool.
7. After 10 min open the roll and remove parchment sheet over the sponge, spread half of the prepared ganache onto the surface of sponge. Roll it again and then pour remaining ganache over the roll to cover it from every side. Leave the chocolate log as it is in fridge to set, and then serve it after cutting into pieces.
photo source : 1