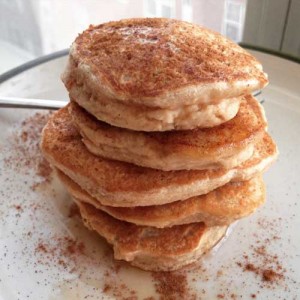 Preparation time : 20 mins. | Yields 16 pancakes
These Snickerdoodle Pancakes are more like snickerdoodle cookies due to their texture. The ingredients used to make these pancakes are almost the same as used in other pancakes except few of them like cream of tartar and sour cream which enhances the flavor and result in different texture.
Ingredients:
1 cup all-purpose flour
3 tbsp sugar
2 tsp cream of tartar
½ tsp baking soda
½ tsp salt
2 tsp cinnamon
¼ tsp freshly grated nutmeg
1 cup sour cream
4 tbsp melted butter
1 egg (lightly beaten)
¼ cup milk or as required
Procedure:
1. Sift together dry ingredients including flour, cream of tartar, baking soda, salt, cinnamon, grated nutmeg and then mix with sugar.
2. Add sour cream, melted butter, egg and then gradually add milk to make smooth batter of medium consistency.
3. Now heat griddle and grease it properly with butter, then pour a ladle fill with batter onto the griddle. Keep flame at low and cook till edges get set, then turn the side and cook till become golden brown. Similarly prepare rest of the pancakes.
4. Serve the warm Snickerdoodle Pancakes with topping of butter or caramel sauce.
photo source : 1