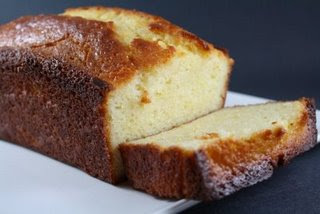 Preparation time : 70 mins | Serves 8 perons
This is plain lemon cake made from Greek yogurt. You may also prepare the most famous Greek banana bread using the same recipe.
Ingredients:
125g butter (softened)
1 cup fine sugar
1 lemon zest (finely grated)
2 eggs
1 cup Greek-style yogurt
1/4 cup milk
2 cup self-raising flour
Preparation:
1. Preheat oven to 350°F.
2. In a mixing bowl, beat butter, sugar and lemon rind using electric beater on high speed until creamy.
3. Now add egg yolks to the mixture and beat again.
4. In another bowl, combine yogurt and milk.
5. After that add yogurt mixture and mix in the batter.
6. Gradually add flour and mix using rubber spatula.
7. Beat egg whites separately Using electric beater until soft peaks would form.
8. Now slowly mix egg whites into the batter
9. Pour the batter into the greased pan and bake for 45 mins. After that reduce the temperature to 300 and bake for 10 mins more.
10. Cool the bread to room temperature before serving.