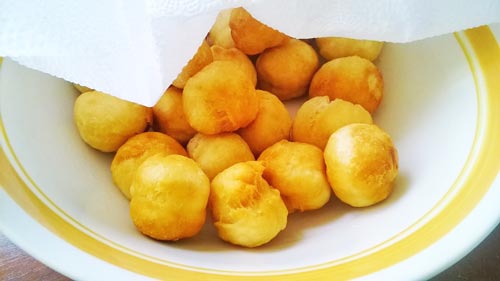 Preparation time : 30 mins. | Yields up to 20
This Jamaican Fried Dumplings Recipe is one of famous biscuit style dumplings in Jamaican cuisine. It is prepared with simple ingredients; all the taste and texture develops by the proper kneading of the dough.
Ingredients:
14 oz all-purpose flour
2 tsp baking powder
1½ tsp salt
1 stick butter
½ cup cold water
Oil for deep frying
Procedure:
1. In a mixing bowl, combine dry ingredients including flour, baking powder and salt.
2. Add butter and rub until the mixture turn into grainy mixture.
3. Gradually add cold water until the mixture forms into a shape of ball. After that knead thoroughly until it becomes soft and smooth. If necessary use little amount of flour or water.
4. Now divide the dough into pieces of a patty size and make it little flat like biscuit.
5. Heat oil for deep frying in a pan, add the prepared patties in batches and fry till become golden brown form both sides. It would take around 5 mins.
6. Serve the hot Jamaican Fried Dumplings with tea.
photo source : 1