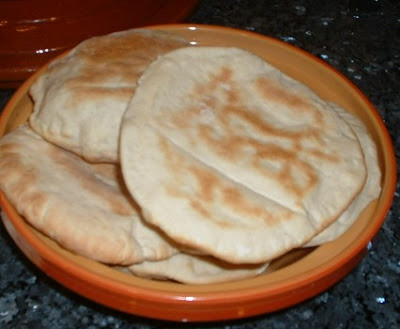 Preparation time : 60 mins | Serves 3 Bread
Pita bread is the most common bread in Mediterranean Cuisines and is prepared in two styles; with pocket and without pocket, hence it is also called "Pocket Bread". The dough of this pita bread recipe is used to make both styles of pita bread. In Arabian cuisine pita bread is mostly used in making shawarma. Its dough is kneaded in the same way as pizza dough.

Ingredients:
1 1/2 cup all purpose flour
1 tbspn yeast
1/2 tspn salt
Pinch of sugar
Normal water as required
Procedure:
1. Dissolve yeast and sugar in 1/3 cup of water and set aside for 5-10 minutes. When the bubbles come on the surface of mixture then the yeast is ready to use in dough.
2. In a mixing bowl, using your hands mix flour, salt and yeast mixture together.
3. Now add water to the flour and knead the dough. The dough is kneaded in the same fashion as you knead the pizza dough then leave the dough for at least 30 minutes so that yeast start its working.
4. After that make 2-3 pieces of dough and roll each of them to make flat bread.
5. Place the bread in baking dish and bake for 8 minutes at 200 degree centigrade, then turn on the upper burner and bake other side of bread for 3-4 minutes more. Take out the bread on turning into light brown in color.
To better understand the procedure watch the video below ( the quantity of ingredients may vary but the ratio remain same)