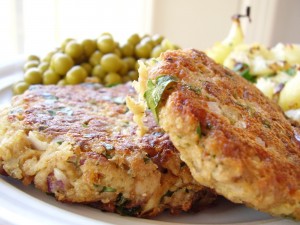 Preparation time : 30 mins. | Serves 6-8 medium patties
Tuna Croquettes are prepared in variety of ways, in this recipe it is prepared with mashed potato and some other vegetables. You can alter ratios of the ingredients used in making these croquettes according to your taste.
Ingredients:
1 cup tuna (drained well)
½ cup mashed potato
2 tsp mustard
2 scallions (chopped)
1 tbsp chives (chopped)
1 tbsp cilantro (chopped)
¾ cup panko breadcrumbs
2 eggs (beaten)
1 tsp lemon juice
½ tsp salt
¼ tsp pepper
Olive oil for shallow frying
Procedure:
1. In a mixing bowl, combine mashed potato, tuna, scallions, cilantro and chives along with seasoning of lemon juice, salt, pepper and mustard.
2. After mixing add 1 egg and half of the panko breadcrumbs and make patties.
3. Then dip each patties in remaining beaten egg and then coat with remaining breadcrumbs.
4. Heat oil for shallow frying in the pan (around 2-4 tbsp) and then fry prepared patties in batches. Cook each side for 2-3 mins. until become golden brown.
5. Serve the hot tuna croquettes with your favorite dip.
photo source : 1