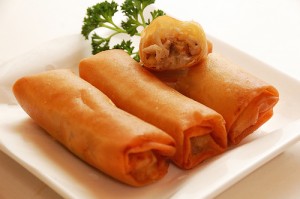 Preparation time : 30 mins. | Serves 12 rolls
This chicken spring roll recipe is from Chinese cuisine which is prepared only with chicken and spring onions. You can adjust the flavors of sauces and seasonings according to your taste.
Ingredients:
500 gm boneless chicken (cut into small cubes)
4 spring onions (chopped)
3 cloves garlic (finely chopped)
2 tbsp soy sauce
1 tsp black pepper
1 tbsp crushed red chili
½ tsp red chili powder
Pastry spring rolls as required
Salt to taste
Oil for deep frying
Procedure:
1. Heat 2 tbsp of oil in pan and saute garlic cloves in it.
2. Add chicken pieces and fry tool become light brown; it would take 5-6 mins.
3. Now add rest of the spices and seasoning in the chicken and cook for 10-15 mins on medium heat.
4. When the chicken would ready remove from heat and add spring onions and mix.
5. Now take a piece of pastry roll and fill 1-2 tbsp of chicken filling and roll it in the pastry roll, prepare all the rolls and deep fry them in oil until become light brown and crisp.