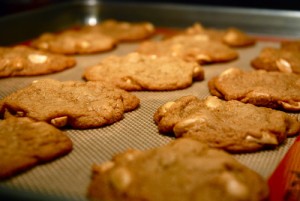 Preparation time : 20 mins. | Serves 50 pieces
This peanut crisp recipe is more like a cracker recipe which is salty in taste. The crisp has also some sweet flavor due to brown sugar, to enjoy complete peanut taste you can use powdered peanuts instead of using crushed peanuts.
Ingredients:
300 gm brown sugar
110 gm margarine (softened)
110 gm shortening
2 eggs
2 tsp vanilla extract
300 gm all-purpose flour
2 cups salted peanuts (crushed)
1/2 tsp salt
1/2 tsp baking soda
Procedure:
1. Preheat oven to 375 degrees F.
2. In a mixing bowl cream margarine and shortening.
3. Add brown sugar and eggs one by one and beat for 3-4 mins until become foamy.
4. Mix dry ingredients together including flour, baking soda and peanuts.
5. Gradually add dry mixture and vanilla extract to the batter and fold using wooden spoon.
6. Take a greased cookie sheet and drop 1 tablespoon of batter at distances.
7. Place the cookie pan in preheat oven for 10-12 mins until become light brown and crisp.
8. After that take then out from oven and cool to room temperature before serving.
photo source : 1