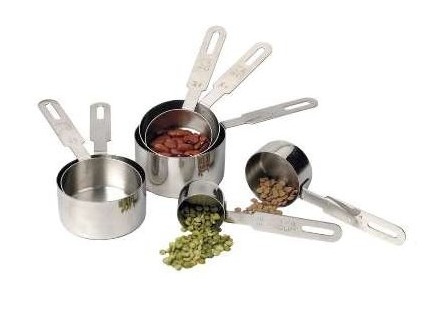 [asa]B0006GNY2E[/asa]
Measuring cups are not only a big help in measuring specific amount of ingredients used in baking, but these are also very helpful is saving a lot of time since a weighing scale might take twice the time measuring the same amount of ingredients plus these cups also take less space in storage and are also not powered by mains supply. The ones shown above are RSVP stainless steel measuring cups. Continue reading below to learn more about these handy cooking tools.
This measuring set of cups is all made of top quality stainless steel so you are rest assured that your measuring cups will last a long time and will also never catch rust nor corrode. These are very durable and a lot better than those low grade plastic measuring cups that crack only after few weeks of use. This stainless steel measuring cup set consists of a total of 7 pieces of the following sizes:
1 cups
3/4 cups
2/3 cups
1/2 cups
1/3 cups
1/4 cups
1/8 cups
These stainless steel measuring cups have round handles which makes gripping very convenient. These handles can also be used to tie all the cups together for storage. These stainless measuring cups can also be hung from their handles. Due to the stainless steel material, it becomes very easy to clean these measuring cups. These cups can be washed by hands and are also dishwasher safe.
You can easily buy these RSVP stainless steel measuring cups from Amazon (with FREE shipping) at a special discount price.