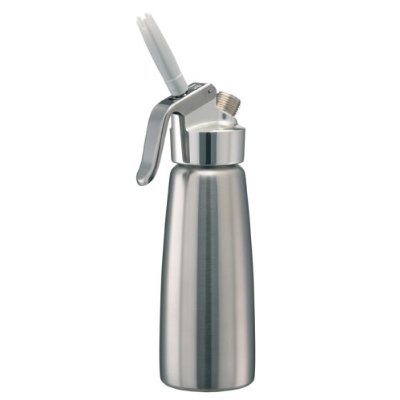 [asa]B0001MRZWI[/asa]
For those who love to decorate their desserts and other food items with whipped cream, iSi whipped cream dispenser works like a charm. Cream dispensers not only save your time but these are also free from preservatives because you are the one who decides what ingredients you want to add with cream. Continue reading below to learn more about iSi cream whippers.
The iSi cream whippers are made with a 100% leak proof stainless steel dispenser. The steel is recyclable. The iSi whipped cream dispenser is very easy to use. Just remove the top, pour your desired amount of cream, close the top cap tightly, charge the dispenser with the desired amount of N2O (nitrous oxide) chargers, shake it a few times and your whipped cream is ready to be poured as toppings for making attractive dessert creations.
The best part about cream whippers is that they do not have additives and other preservatives. You can even add flavored syrup along with cream. If you do not consume the entire whipped cream in a single go, you can easily store the iSi cream dispenser in a refrigerator for up to 10 days. One N2O charger is enough for charging 1 pint of cream while you may need up to 2 chargers for a 1 quart cream. The iSi whipped cream dispenser uses standard size decorator tips that are used in cake and pastry decoration so it is entirely up to the choice of the user. The nitrous oxide (N2O) chargers are sold separately and you can easily get a pack of 24 chargers for as low as $15.
Where To Buy ?
The iSi whipped cream dispenser is available at Amazon (with FREE shipping) at a special 25% discount price that might jump back to normal at anytime.