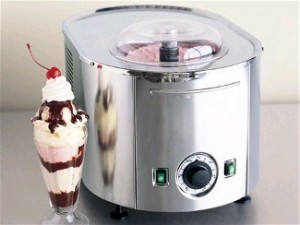 [asa]B00004RDF0[/asa]
Musso is an Italian brand mainly known for its versatile ice cream makers, its Lello 4080 Musso Lussino Ice Cream Maker is one of its bestselling product. This Musso Ice Cream Maker has a capacity of 1.5 quart and is made fully automatic. Not only because of its efficient working the stainless steel body design also makes it appealing and luxurious for customers.
The Musso Ice Cream Maker is not just an ice cream machine its a machine that able to give you delicious frozen desserts like; silky sorbets, Italian gelato, frozen yogurts, and refreshing frozen drinks. Unlike other ice cream machines Lello Ice Cream Maker has fixed bowl in which you add ingredients so you don't need to pre-freeze the bowl it will done all the procedure automatically. While the mixing paddle or blade and cover are removable parts, it doesn't mean that it would be hard to make it clean – the Musso Ice Cream Maker has simple design and easy assembly all the parts of machine can be cleaned easily by sponge and warm/soapy water.
If you look at the working of machine, you find it very convenient – it is good to have freshly prepared frozen dessert just after your dinner or lunch so you may need to put ingredients according to your recipe and turn ON the machine. When you finish your meal your dessert will be ready to serve (just within 30-40 mins.). The Musso Ice Cream Maker has two buttons one for "Churn" and other for "Chill" so you will have to turn ON both buttons after adding batter to the bowl and cover the lid. It would take maximum 60 mins. for perfect ice cream while other foods take lesser time around 30-40 mins. The Lello Ice Cream Maker has 60 minutes timer which will automatically turn OFF when the batter gets the desired thickness or when the mixture gets too hard the machine shuts off automatically. It is also noteworthy for a good Ice Cream Maker that it could make different flavors of ice creams in non-stop batches or not? And the Musso Ice Cream Maker has the ability to make multiple batches with any waiting and you can enjoy multiple flavors at once.
This Musso Ice Cream Maker comes with a one-year warranty against defects and an instruction booklet with many recipes included. You can easily buy this Lello Ice Cream Maker from Amazon store at price of $699 with FREE Super Saver Shipping.