When it is time to selecting a quality stainless steel chafing dish, you will find many people recommending All-Clad chafers for its superior quality and elegant appearance. All-Clad has been in the market for a long time and has been producing restaurant quality cookware and serve ware for decades. They have two versions of their stainless steel chafing dishes; one is rectangular while the other is a round chafing dish. Continue reading below to learn more about these All-Clad chafing dishes. You might also want to check out other chafing dishes for sale at Amazon.com
Rectangular Stainless Steel Chafing Dish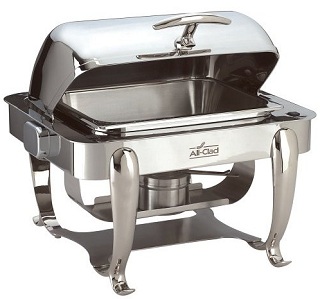 [asa]B0000CE196[/asa]
The rectangular chafing dish by All-Clad measures 21x19x13.8 inches and is constructed with the finest quality 18/10 stainless steel. The chafer has insulated handles that remain cool all the time. The fuel holder is also constructed with stainless steel. The All-Clad chafer has a removable dome shaped lid that has micro-vent. The lid can be adjusted in a fashion that it locks at your desired positions keeping the food partially covered/uncovered. The rectangular chafing dish is mainly selected for the main course but you can use it according to your own menu. It is best for small to medium scale gatherings. Due to the stainless steel material, cleaning this chafing dish is super easy. Hand wash with chlorine-free mild-abrasive cleaner. Use a soft cloth and warm water. This rectangular stainless steel chafer carries a lifetime warranty from its manufacturer.
Round Stainless Steel Chafing Dish
[asa]B0000CE195[/asa]
The All-Clad round chafing dish measures 21x21x14 inches and this one is also constructed with the finest quality 18/10 stainless steel which is pretty much a standard in food service industry. This round chafing dish is suitable for desserts, soups etc. The round chafer has also got a dome shaped lid with a large handle that remains cool all the time. The lid can easily be locked at various positions keeping the mouth of the chafing dish partially closed/unclosed. Like other All-Clad stainless steel chafing dishes, this one is also not meant to be washed in a dishwasher. Only hand wash is recommended for prolonged life. Since All-Clad chafing dishes are made of complete stainless steel, you are rest assured that your chafing dish will never catch rust nor corrode.