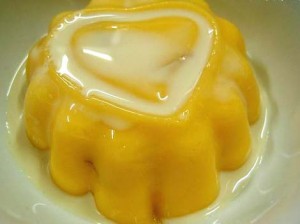 Preparation time : 15 mins. + 6 hrs. Chill time | Serves 4 persons
This mango pudding recipe is prepared with mango ice cream hence has some different flavor as compare to other mango pudding recipes. The pudding can be served with whipped cream and mango jelly or sauce to make it more tempting for presentation.
Ingredients:
3 tbsp gelatin
1 cup sugar.
1 ½ cup mango (sliced)
1 ½ cup milk.
1 cup mango ice cream.
¼ tsp vanilla extract
Procedure:
Dissolve gelatin in half cup of water.
Now boil half cup of water in a sauce pan, after that add gelatin mixture and sugar in the boiling water and cook on medium heat until sugar and gelatin completely dissolve in water, then remove the pan from heat and allow the mixture to cool.
Now in blender combine all the ingredients including milk, ice cream, vanilla, mango and the gelatin mixture. Blend them together to make a thick paste.
Then pour the batter into the suitable pudding mold and keep it in fridge for 4-6 hrs. until it completely sets.
To serve this delicious mango pudding, transfer it into the serving platter and garnish with some cream and mango slices.
photo source : 1